Advanced GPS Add-in for TM
(Version 2.3.40 for 2004/2006) Show index page
Welcome to the home page of the Advanced GPS for Microsoft Map PointTM. AGPS is the GPS owners' must-have add-in for the Microsoft MapPoint (North America and/or Europe. Version 2002/2004/2006)! Read the latest review at Network World Sep. 25, 2006. Take a look at the screen shots below and find out how powerful it is. For Streets and Trips and Auto Route users, please read the FAQ here after you read through and understand the AGPS features on this page. Since Microsoft MapPoint street database is based on database from the Navigation Technology (NavTech Inside TM), it is very accurate for street navigation comparing to the other data source. NavTech database is 100% used in US automobile navigation systems and over 90% in Europe. I started to develop AGPS because I own some other street navigation software and they were useless caused by their inaccurate data.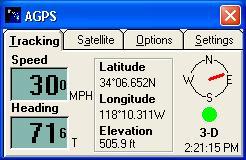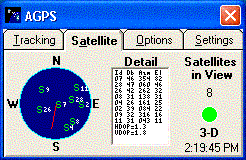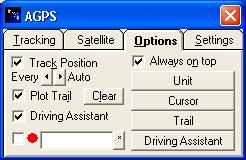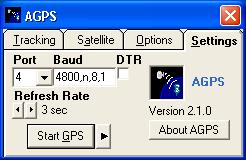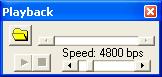 Intuitive GUI design with shortcut keys and help displayed on the tool-tips

AGPS displays the speed, heading and time from the GPS atomic clock.. Also optionally plots the trail and the cursor of heading.


AGPS 2.x driving assistant feature, with audio and visual warning.

Feature Summary
Additional features in the Version 2.x for MapPoint 2002 and 2004
Auto re-calculate route when you off-track
Speed sensitive (ETA or distance based) Driving Assistant (please read how to use? for version 2.x)
Visual and audio warning with Text-To-Speech enabled driving direction speak out.
The Driving Assistant now works for multiple waypoints with Guidance Manager, completely get around a bug in MapPoint2002 that causes error driving directions when a route contains multiple waypoints..
Accurate Estimated Time of Arrival (ETA) to the destination with given current GPS time and location
Zoom-in and zoom-out shortcut keys. (Z/X)
Magnetic heading (compass heading) display
Automatic tracking current position on the map instead of by refresh/redraw rate. (how to set it?)
Zodiac GPS chipset v 2.x support (Zodiac with NMEA extension) View Known GPSs Not Supported by AGPS
Version 1.1.x for MapPoint 2001
Variable GPS refresh rate. Either time interval driven or GPS data driven (PII-233Mhz and up for GPS driven)
"Route from current GPS position" (click on the compass or press "R")
Capture NMEA183 data from GPS to a file and playback/pause NMEA183 data as it's from a GPS
Display Average Ground Speed, Elevation, Location in the selectable unit
Display speed in Mph, Kmh or Knots, elevation in meter or feet. Can switch the display unit on the fly.
Heading Information: a compass, current location with heading
GPS Time (Atomic clock) with one-click to sync the system time with GPS time
GPS State and Satellite View displays the satellite positions in the sky and the detailed reception information.
Plot Trail to plot a trace on the map with advanced pushpin notes. (enhanced feature in version 2.x)
"Push a pin" in the compass menu for people just want to lay a push pin on the current location.
Raw CSV trace note output format option (see FAQ for how to export to the database)
Intuitive design with shift-less, Alt-less shortcut keys and tool tips hint
Automatic Start AGPS when MapPoint starts if you left AGPS opened while you shutdown MapPoint last time.
Semi-automatic track current position on the map (v 1.x only)
Please download it from the download page. To run the AGPS, just click on the menu "Tools->Advanced GPS", the tool box like the following will show up. The settings are straight forward. Please read the disclaimer, compatibility and known issues later on the page. Thanks.
The AGPS add-in is provided as-is. You are on your own risk to use this AGPS Add-in. TechGT.com is not liable to the damages of your health, properties, system and/or software causing by using the AGPS. AGPS is not designed for automatic navigation system. To run AGPS, you must own a legal copy of Microsoft MapPoint software. AGPS will not be functioning without Microsoft MapPoint. All the export restrictions applied to Microsoft MapPoint are applicable to AGPS. Microsoft MapPoint is the trade mark of Microsoft Corporation. Microsoft is not affiliated with the AGPS add-in code authoring. All illegal usages of AGPS including criminal or terrorist activities are strictly prohibited.

NMEA183 V2 Compatibility:
Please be aware that the availability of the following NMEA183 protocols will affect part or whole of the add-in features. The AGPS will take the data from one or more protocols by the following listed priority. (e.g. if 1 is not presented, use 2). Check your GPS receiver manual to confirm the AGPS functionalities that will be activated by your GPS receiver.
GPS Buying Guide
For the basic Latitude/Longitude extraction

GGA
RMC

Elevation information

GGA

GPS Time

RMC
GGA

GPS Date (displayed on the tool-tip of the GPS time)

RMC

Heading (Traveling Direction)

RMC

Average Ground Speed, Driving Assistant

RMC

GPS data accuracy State (Warning/2-D/3-D)

GSA
GGA
RMC

Number of Satellites in view

GSV
GGA

Satellite ID, position and signal detailed information (up to 12 satellites)

GSV
GSA

Horizontal Dilution of Precision (HDOP)

GSA
GGA

Vertical Dilution of Precision (VDOP)

GSA
Thanks:
Thanks to Ron Whately at mailto:rwhately@silcom.com whom provided me a tutorial sample code (GPSTime) to extract the NMEA183 sentences. Also thanks to Walter Piechulla for his Understanding NMEA 0183 that helps me to understand and extract all the NMEA sentences needed by my program.
My GPS Gears :
Take a look at my on-the-road GPS gears.
Copyright 2001-2004 © Chun-Li Pu / TechGT.COM
Map images: Copyright © 1988–2000 Microsoft Corp. and/or its suppliers. All rights reserved. http://www.microsoft.com/mappoint
© Copyright 1999 by Geographic Data Technology, Inc. All rights reserved. © 1999 Navigation Technologies. All rights reserved. This data includes information taken with permission from Canadian authorities © Her Majesty the Queen in Right of Canada. © Copyright 1999 by Compusearch Micromarketing Data and Systems Ltd.